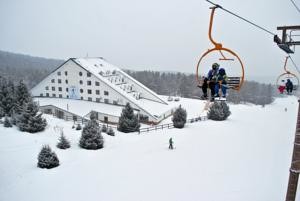 Proposal for skiers and winter holiday party!
Guaranteed places Hotel Caprice – Karakol
Guarded hotel complex is located in the ski base "Karakol" in 7 km from the town of Karakol.
Room categories:
The rooms:
satellite TV

shower, WC

dishes

hygiene products

bathrobes, towels

Free Wi-Fi

it is possible to accommodate additional space.
Hotel Facilities:
Luxury Hotel, for discerning travelers.
Excellent conditions for families with children.
Price per room per night with breakfast in USD 2017-2018
Category number

19.11.17-25.11.17
26.11.17-02.12.17
03.12/17 – 31.03.18

Weekday rate

Vskr environment

03.12/17 – 31.03.18

Output rate

Thurs – Sub

27.12.17-07.01.18

Prazdnich fare

Twin Room
100
120
120
150
180
Suite Room

(4-seater)

180
200
200
240
260
Additional place
25
35
35
40
45
Children up 5 year old

no place

free
22,23 February 8 March is considered the rate of the day *
Check 19:00. Check-out time 17:00